Chris "Broadway" Romero has always had a vision for himself. Growing up in Prince George's county, Maryland, he discovered his passion at an early age, and has aggressively pursued his career in the visual arts field since then. Dedicating years to his artistic craft, he understands just how important a visual is. That's why as founder and CEO of B Way Creative Studios, he sees things differently.
Broadway is responsible for directing and producing with a team that includes everything from Music Videos, 3D Animation, PreViz, VFX, Documentaries, Films, Short Films, Websites, Albums, Mixtapes—all key elements in a connected, growing media empire. "From shooting on DSLR or red cam to doing motion capture for animated characters, our team grinds it out all day to give the client the ultimate in creative and technical direction and production – art that you can feel, see, hear, and share," says Broadway, who holds a degree in Imaging and Digital Art from the University of Maryland, Baltimore County, which he attended on a full University Scholarship and graduated Cum Laude. With a well-rounded background, Broadway combines his unique knowledge of animation, gaming, the internet, and the music business to advance B Way Creative Studios.
For over 15 years, Broadway has built up a reputation as the go-to guy for animation in the Hip-Hop digital space. Having worked as part of a core art team for a large gaming company back in the 90s, he acquired skillsthat would later come in handy. Broadway made the transition into the Hip-Hop industry, as part of the art team that introduced thesource.com to the digital world, and his directorial debut in music videos with Big Pun's "How We Roll." He has recently come full circle by animating and directing hologram virtual performances for deceased rappers Eazy E and Ol Dirty Bastard at the Rock the Bells hip hop festival.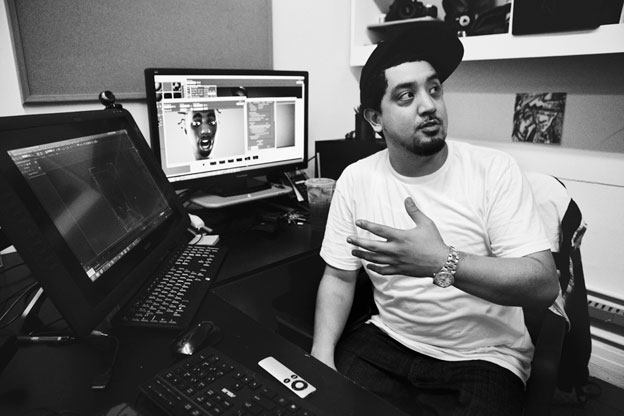 "I didn't even understand how important it was for me to be where I was at the time. At the time, there were major advancements being made in animation. This was around the time Pixar had blown up, and imaging was something that very few people in Hip-Hop were up on. I decided to start my own company and really go full steam ahead," he remembers. Broadway soon linked with 50 Cent and G-Unit, where he became instrumental in the development of the highly successful thisis50.com.
50 Cent on starting Thisis50.com from Chris "Broadway" Romero on Vimeo.
Using his digital arts talent and understanding of the culture to creatively move the musical genre forward, he went on to produce and direct the animated video for G Unit's "My Buddy." As Hip-Hop videos were suffering from a lack of originality, animation provided a new creative avenue, and Broadway was at the forefront.
At B Way Creative, Broadway is lending his expertise to a creative studio like no other, and relying on his eye for visual perfection to bring brands, celebrities, and products to life. Says Broadway, "The fact that we are creating everything about the client, from their videos to their animated 3D avatar or cartoon character, to their websites to their social accounts. We want every piece to feel like a living extension of the client, so we make sure the details are right." "People want that authentic flavor, and once we give it to them, they will truly own the experience."
Bio written by Kim Osorio